For the last years, the Belt and Road Initiative (BRI) has been a part of all significant international infrastructure and trade conversations and I was engaged in one of these recently. Based on my conversations with industry leaders and my own assessment, here is my perspective on BRI and how it has helped us re-learn the effectiveness of the Port-Park-City (PPC) model.
BRI- what is it and what is it not
Simply put, BRI is about the development of  hard infrastructure assets over a defined geographical area.
BRI is also aimed at encouraging countries along the Belt & Road, to collaborate on soft infrastructure including economic policy coordination, free trade, financial integration and people to people bonding.
BRI is not just one belt or one road, it includes six economic corridors including the (1) China-Mongolia-Russia Economic Corridor, (2) New Eurasia Land Bridge Economic Corridor, (3) China Central Asia-West Asia Economic Corridor, (4) China-Pakistan Economic Corridor, (5) Bangladesh-China-India-Myanmar Economic Corridor and, (6) China-Indonesia Peninsula Economic Corridor.
Among these corridors, China is seeking to find and establish hubs and gateway ports to sustain and localise businesses.
Why BRI
China accounts for about 30% of the global economic growth and the economy has been in triple transition, moving from industry to services led; export oriented to domestic consumption led and investment led to consumption led. Simply put, to continue creating jobs and maintaining/improving capital productivity, the Chinese state-owned enterprises (SOEs) need to find, create and secure markets for their products and partners for growth.
From the geo-political perspective, like Russia, China has been a land power historically and would benefit from access to energy suppliers in the Middle East and markets in Europe, besides access to water and food. Some experts opine that in the next decades, China will need access to water from Arctic, Russia and access to food from the South.
Over 75% of China's oil imports pass through the Malacca Straits and a strong trade and investment relationship with Singapore remains critical, even while developing alternate trade lanes.
Why has BRI generated so much interest
The sheer size, scale and ambition of the initiative are without a parallel in modern history.
The Belt and Road Initiative (BRI) is perhaps the largest infrastructure development program in history. It is expected to impact 50% of the global GDP and 75% of the global energy reserves, touching 70% of the global population, when completed. BRI is about 8 times the size, when compared with the US Marshall Plan to rebuild Europe after World War-II, even in today's money terms.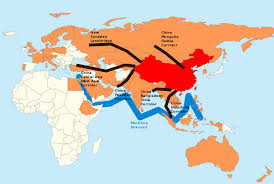 Image-BRI map- Source Wikipedia
As brought out in our insights in  Maritime & Logistics Weekly  from time to time, Chinese investments in ports have gone beyond the BRI geography in recent times to developing ports in Australia, Africa, South and North America. The learning from BRI is spreading to other continents.
One learning is that, as a part of the initiative, China has set up enabling mechanisms in the early stage of the program. These include The Asian Infrastructure Investment Bank (AIIB), with separate categories of memberships to enable more countries to join and benefit from the same.
While the World Bank (WB) and the Asian Development Bank (ADB) appear to have reduced focus on funding for hard infrastructure projects, China with the BRICS bank and the AIIB has significantly increased investment in infrastructure projects.
What are some opportunities and concerns of BRI countries
For several emerging economies the initiative brings investments in infrastructure, including in port and connectivity infrastructure that could lift trade. The initiative could also bring access to good practices in developing infrastructure and perhaps even operating the same.
On the flip side, monopoly and security related concerns have been raised claiming ports, being leased out, are strategic national assets and over reliance on a single source for investment and development, could lead to monopolies. Further concerns have been raised on whether the project selection is market demand linked or selected to fulfil geo-political interests.
India has expressed objection to the China Pakistan Economic Corridor, that passes through Pakistan Occupied Kashmir (POK). India is however collaborating with China in the AIIB bank initiative for infrastructure development.
While some project stakeholders have also raised concerns that not enough local employment is being generated, in all fairness the project owner needs to decide on sourcing resources from the project area, matching the requirement versus availability of skills and work culture indigenously.
Some key port nodes in BRI
Djibouti in Africa- China has invested significantly in the Horn of Africa region, initially focussing on natural resources to support its economic engine and perhaps subsequently building heavier industries up the value chain. About 20% of global trade passes through the region between Yemen and Djibouti. A major trade gateway is Djibouti's Doraleh Container Terminal, which has good rail and pipeline connectivity. The terminal was recently seized by the Djibouti's government from the developer-DP World, and within months the  Djibouti International Free Trade Zones (DIFZ), funded by China was launched, providing China priority access to several land locked countries in the region.
Duisburg in Germany is one of the largest inland ports and is the terminus for the Chongqing-Xinjiang rail line to Europe. Over 50 Chinese companies have relocated to the city and China has invested in rebuilding its infrastructure. Duisburg he Rhine and North Sea, Eastern, Baltic and Atlantic Sea lanes.
Singapore in Asia- China and Singapore have made significant investments in each other's economies. This includes Chinese high-speed trail corridors in the South, connecting to sea lanes to Singapore. The two countries are then investing in the Kuala Lumpur-Singapore high speed rail. Bilateral trade between China and Singapore comprises over 10% of Singapore's global trade.
Image- Industrial Park, Source – Depositphotos
What is the PPC concept
Considering the Chinese experience in developing and operating mega logistics infrastructure projects including by China Merchants Group in Shenzen, and recently followed up China-Belarus Industrial Park in Minsk, Byelorussia, Hambantota Port and Free Zone in Sri Lanka and Djibouti in Africa, the Port-Park-City (PPC) model for successful development of mega logistics infrastructure is worth emulating.
For mega logistics infrastructure projects, park-centric and not port-centric approach is a significantly better guarantor of success. This is because ports that do not become hubs, would by themselves be unable to sustain their pivotal role along a trade lane.
Whereas a park-that includes a special economic and/or a free trade zone-along with a port, can be a game changer for investment and trade. As also suggested in my earlier article on special economic zones, the port enables connectivity to global supply chains, the park adds value with local inputs to the products themselves and contributes to cargo generation.
How can small and medium enterprises (SMEs) benefit
China appears to be pursuing a 'start-first and refine later' approach for BRI projects and proposals on mutually beneficial ideas of collaboration, could perhaps bring appropriate changes to allay stakeholder concerns and include more SMEs.
BRI projects including the Port-Park-City developments usually have a long payback period, requiring patient capital and are therefore best suited for large infrastructure developers and state-owned enterprises (SOEs).
Small and medium enterprises can participate in various capacities, including as unit holders, co-developers, service providers in the parks ie in the economic/free zones, and benefit from their positioning in the global supply chains, without significant investment.
Leveraging the infrastructure created in BRI projects to one's advantage could be a win-win for the SMEs as well as the developers of these parks.
While Maritime & Logistics Weekly  continues to track the progress of the BRI initiative and update on learning, I look forward to your comments, insights to widen and deepen the conversation around this theme…